WHAT WE DO
The Cordillera Team are renowned worldwide experts in the delivery of training courses to commercial and military audiences to support capacity building, alternative approaches, transformational activity and improved efficiency.
Cordillera is currently supporting significant military and commercial training and capacity building projects across Australia, Canada, Latin America, UK and the USA as well as International Organisations such as the World Bank and NATO.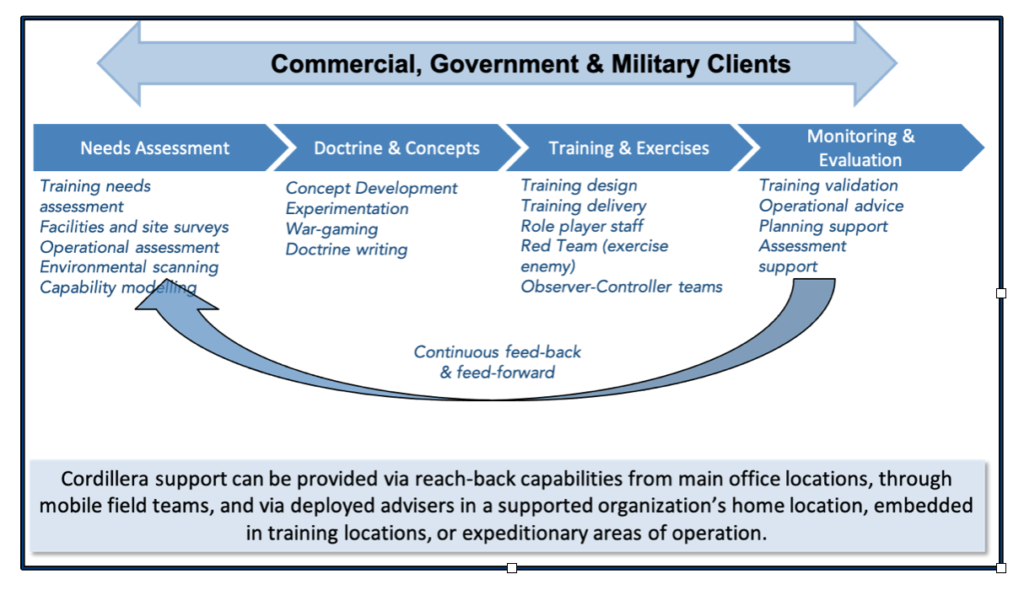 Our Subject Matter Experts (SMEs) are competent and qualified instructors who have delivered courses in the following disciplines:
Resilience & Planning
Research & Analysis Techniques
Concept Development and Experimentation (CD&E)
The Future Urban Environment, Urban Operations, Threats and Anti-Fragility
Major Event Security & Planning; Intelligence & Targeting; Battlespace Management (BSM)
Operations Planning; Operations Analysis and Operations Assessment (OA & OPSA)
Counter-Insurgency (COIN)
Hybrid Warfare and Counter-Terrorism (CT)
Table Top Wargaming to local Government to understand Future Threats & Risks to enable the development of Mitigation Technques and Resilience.
The Cordillera team combines more than 50 years of instructional experience built around a highly competent team of instructors with military and commercial experience. Our team has worldwide experience training students and uses innovative training techniques aimed at achieving maximum student participation. We always take a consider approach designed to meet the customers needs. We work with clients to establish their training needs through a training needs analysis to ensure that the training on offer meets expectations. In addition, our courses are flexible and can be adapted to meet specific commercial and military needs.